---
AH-XP10VXY
Feature :
Capacity 1 PK
Sharp Air App
Dual Long Panel
ECO Aero System
Self Cleaning with Plasmacluster Ion Technology
SUPER JetStream & Coanda Airflow
24H Clock & Timer
Four-Way Auto Swing
10 Years Warranty Compressor
R32 Eco Refrigerant
7 Shield Protection
Specification (AC) (-)
PRODUCT SERIES
J-Tech Inverter AIoT Series
Colour
Dark Panel
Jetstream
Yes
Coanda
Yes
Low Wattage
Yes
Turbo Cooling
No
Plasmacluster
Yes
Auto Swing Louver
Yes
Anti Rust Evaporator
Yes
Self Cleaning Function
Yes - with Plasmacluster Ion
Remote Control
Yes
Coverage Floor Area ( m² )
14-26 m2
Cool (kW)
2.50 kW
Capacity (PK)
1 PK
Cooling Capacity(BTU)
- BTU
Liquid Side (Inch)
1/4 inch
Gas Side (Inch)
3/8 inch
Refrigerant Volume
R-32
Rated Frequency (Hz)
50 Hz
Rated Voltage ( Volt )
220 Volt
Rated Current (Ampere)
2.5 Ampere
Rate Input (Watt)
460 Watt
In Door Dimensions (mm)
798 x 249 x 299 mm
Out Door Dimensions (mm)
780 x 540 x 269 mm
In Door Weight (kg)
12 kg
Out Door Weight (kg)
30 kg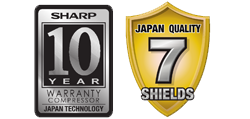 Perlindungan Petir
Kapasitor menyerap dan menstabilkan lonjakan listrik yang terjadi saat sambaran petir, menjamin semua sirkuit listrik terproteksi terhadap tegangan listrik tinggi yang berlebih.

Perlindungan Korosi
Perlindungan terhadapt karat, pengunaan material AL+ dapat menjamin kondensor tetap beroperasi secara efisien dan bebas karat.
Perlindungan Voltase Tidak Stabil
Dengan Low Voltage System (LOVES) 130 Volt.
Perlindungan Terhadap Jatuh
Kemasan karton diperkuat dengan bahan penyerap benturan menjamin AC selalu stabil dan bebas kerusakan sepanjang proses pengiriman untuk menjamin terjaganya kualitas dari pabrik sampai dengan rumah konsumen.
Perlindungan Bahaya Api
Perlindungan terhadap bahaya api - Desain PWB outdoor Inverter terbungkus sempurna 6 sisinya dengan material metal dan sesuai dengan standart keamanan USA (UL Standart).
Perlindungan Terhadap Getaran
SHARP melakukan simulasi getaran untuk menjamin kualitas AC SHARP tidak akan terpengaruhi oleh keadaan terburuk sekalipun dalam proses pengiriman.
Perlindungan dari Cuaca Ekstrim
Perlindungan terhadap cuaca ekstrim, desain outdoor yang tahan lama menjamin perlindungan terhadap cuaca yang ekstrim seperti terik matahari atau air hujan.
---
Share this Product
---
More from this collection